99% of the English population live within 15 minutes of a local authority fitness centre

Over one million people in England don't have access to a privately operated gym

Targeting the under 30s and over 50s presents a real opportunity for gym owners

Rural coastal areas have a lack of gym provision

Evaluating the local demographics of a new location can set gym businesses up for success
Fitness trends are constantly changing, and today's exercise regimes have come a long way since the days when the Ancient Greeks founded the Olympics.
Just as exercise has developed over the centuries, gyms have naturally evolved too. The gym sector is now a multimillion-dollar industry worldwide, worth almost $100 with more than 200k locations across the globe, proving that owning a gym business is worth its weight in gold.
Here in the UK, over 10 million people are a member of a fitness centre and there are around 8,000 gyms across the nation, generating over £2bn in revenue every year.
However, while the fitness industry seems to have hit the ground running in recent years, access to gyms is not equal across the UK. Some communities are more catered for than others, creating disparity throughout the nation.
The UK gym marketplace
Using our leading location intelligence platform, Periscope®, we analysed the market and how accessibility to facilities across the UK varies. We did this to determine if there are any communities underserved by fitness centre provision to find locations where gym owners can expand their businesses.
When we looked at ownership in the UK, major players in the market include Pure Gym which has over 300 locations, David Lloyd with 100 facilities, Anytime Fitness which has 180 sites, and Virgin with nearly 50 premises. However, there are also plenty of others emerging in the market, including Solo60, F45 and Energie Fitness.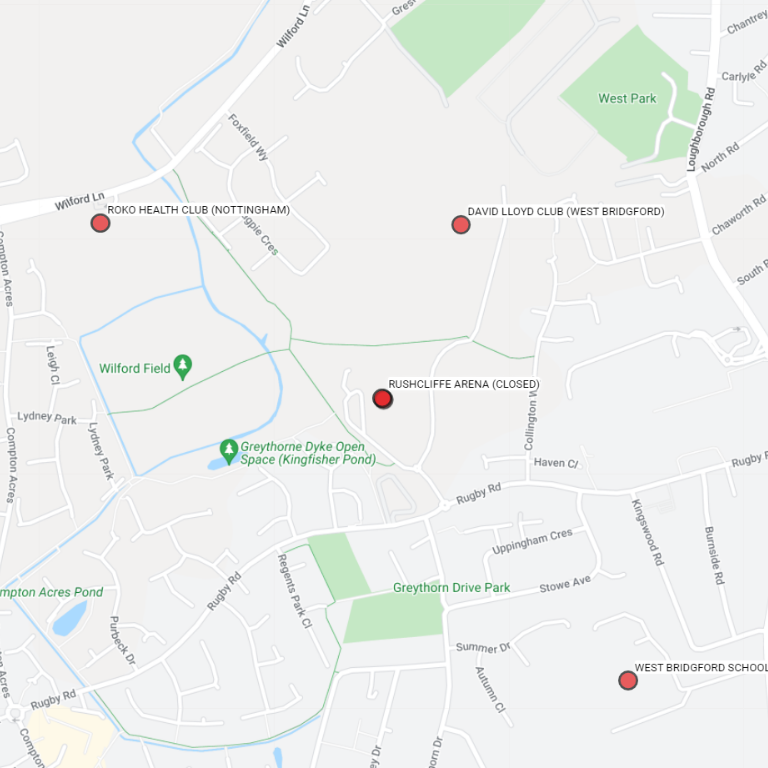 Our research shows that despite the fact the fitness industry is a busy and competitive market, there is still considerable room for expansion for UK gym owners. Yet, what has become increasingly clear from our data is that different types of health and fitness clubs appeal to certain audiences.
Whilst there is some variation by demographics, the real difference is between people that can access local authority fitness centres versus those that have the option to join gyms run by larger, commercial organisations.
Utilising Periscope®, we discovered that 99% of the English population live within 15 minutes of a local authority gym, whereas there are over one million people that do not have access to facilities from one of the privately operated groups. Clearly what each facility offers is distinct and will therefore appeal to different people. Local authority centres can often be cheaper than their commercial counterparts. In an ideal world, everyone would have multiple fitness facilities to choose from, so they can decide which gym is right for them and their family.
As a result of this disparity, there is increasing fragmentation and complexity in the marketplace, as not every type of health and fitness club will be used by all local citizens and, therefore, won't be profitable in every area across the UK.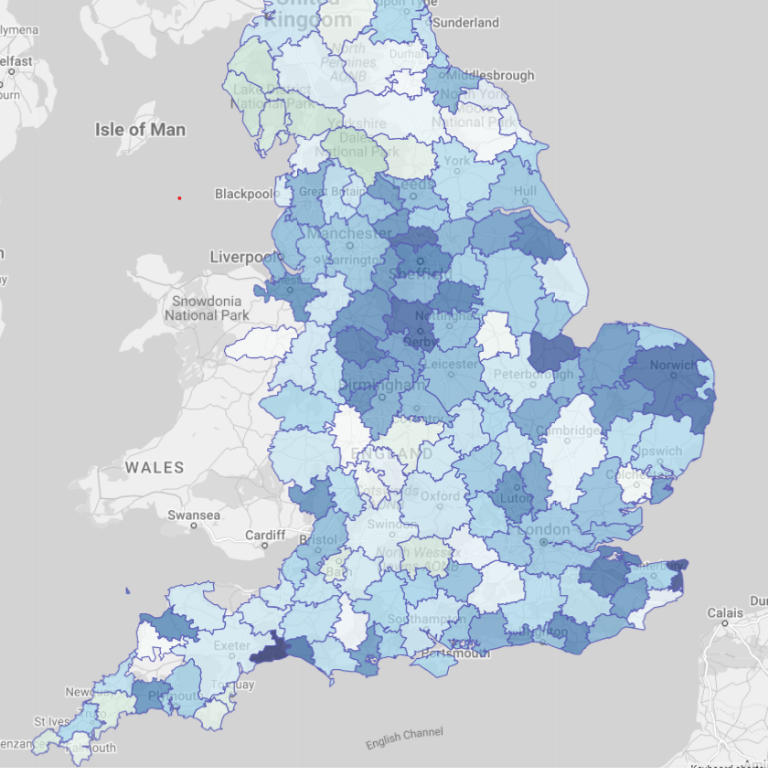 Our Sales Director, Paul Thomas, commented: "As the nation becomes even more health-conscious, our appetite for access to quality gyms and leisure facilities continues to grow. This can be seen in the increase in the number and type of gym operators.
"What is clear from talking to our clients in the gym sector is that leisure businesses are no longer adopting a 'one size fits all' approach and are tailoring their offering to the local market.
"They're doing this based on an understanding of local demographics, having analysed gym catchment areas by using location intelligence. Newgrove's Periscope® allows them to do this with ease and efficiency."
Location, location, location matters
Therefore, opening the right kind of fitness facility for a community is key to the success of any gym business.
For example, if you want to open a family-friendly leisure centre with plenty of activities for parents and children alike, but your potential site has a population with a higher percentage of elderly citizens nearby or it will take parents an hour to get to, it's less likely to be a hit. Likewise, if you're wanting to target students and those under 25s but the area that you're looking at has a high number of families and over 30s, then it may not be the right location for you.
To understand the complexity of the sector, we looked at how access to gyms varies across the UK and how different factors play a part in this. We found that the key drivers impacting people who use a gym, and the type of facility they choose to work out at, include:
Accessibility
Affordability
Range of facilities on offer
Opening hours
Studying the gym landscape on a more granular level, we took into consideration both the number of facilities in local regions and the above factors to determine the levels of availability of fitness and leisure facilities across the UK.
We sought to find the areas where there is the least provision for gyms to see if there are any opportunities for gym owners to support these communities and grow their businesses. It probably won't come as a surprise that less urban areas feature in the top five locations where there is a higher volume of people per gym. The data revealed that the lowest provision of sports facilities is in coastal retirement and rural locations.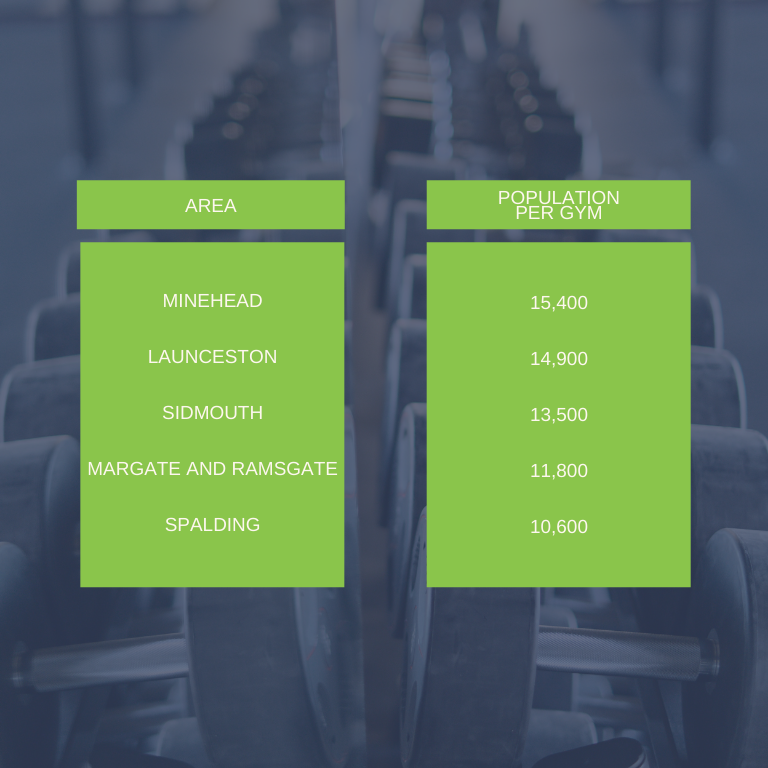 To determine this, we looked at the population per gym: this is how many people each health club in an area caters for. The lower the number, the more gyms there are in an area. The higher the number, the fewer there are.
For instance, in Minehead in Somerset for every gym in that area, it caters to over 15,000 citizens. That's a lot of people per site. Whereas, somewhere more urban, like Manchester has half the amount with 7,000 people per fitness centre. This means people within these rural and coastal areas may struggle to get membership, book on to classes or find space to work out within their local facility as it may already be at capacity.
We applied the same logic to local working populations across the nation and found similar results – smaller rural and coastal areas are often underserved. However, some large cities with countryside surroundings, such as Derby, Chester, or Norwich, also appear to have a lack of fitness facilities for people working in these towns.
Therefore, there could be significant scope for gym owners to expand their presence into these countryside and coastal areas. That said, ensuring their offering meets the wants and needs of these communities will be key.
Looking at the data, we believe gyms suited to an older demographic may be more successful in rural and seaside locations, which we discuss in more detail below. Gym businesses targeting workers may want to look at expanding to larger cities with the countryside on their doorstep, like those listed above, as there is potentially a gap in the market here.
Diving into the demographics
As we talked about above, the demographics of different customers can vary. When we analysed gym access for the younger population, specifically the under 30s, the outcome is different than the overall picture across the UK.
Looking at gyms per population again, some of the larger urban areas don't have adequate provisions for people under 30s. This, therefore, represents a real opportunity for gyms targeted at a younger audience to expand into these areas.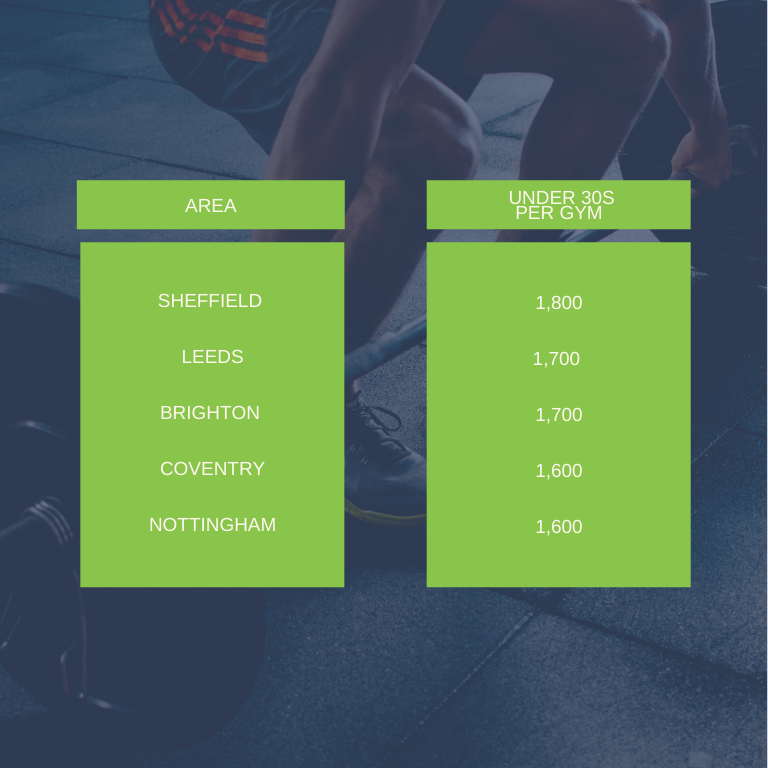 One of the highest rising groups using gyms more regularly is people in the pre-retirement and early retirement stages, with the 55-74 age range being the fastest growing among them. However, for people within this age bracket to take out gym membership, it typically requires a degree of affluence.
To identify locations that gym owners could expand in to target this demographic, we used the geodemographic classification of OAC (Output Area Classification). We selected several OAC groups where people are both affluent and in the 55 to 74 age groups. This included the Urbanite (those more likely to be situated in urban areas in southern England) and Suburbanite (who are most likely to be located on the outskirts of urban areas) OAC Super Groups. These two Super Groups contain demographic types such as Ageing Urban Living, which has a higher proportion of people aged 65, and Suburban Achievers, who typically live in detached properties and flats and are less likely to rent accommodation.
The higher levels of affluence of these sections of the population mean they are more inclined to have disposable income to invest in the premium end of the gym market. Also, they potentially have additional free time to visit a gym on the basis that a greater number will likely be retired or semi-retired due to the higher age bracket.
Again, we looked at where people who fall under these demographics are situated and how this compares to the number of gyms in their locality. We then found the most underserved areas within this category.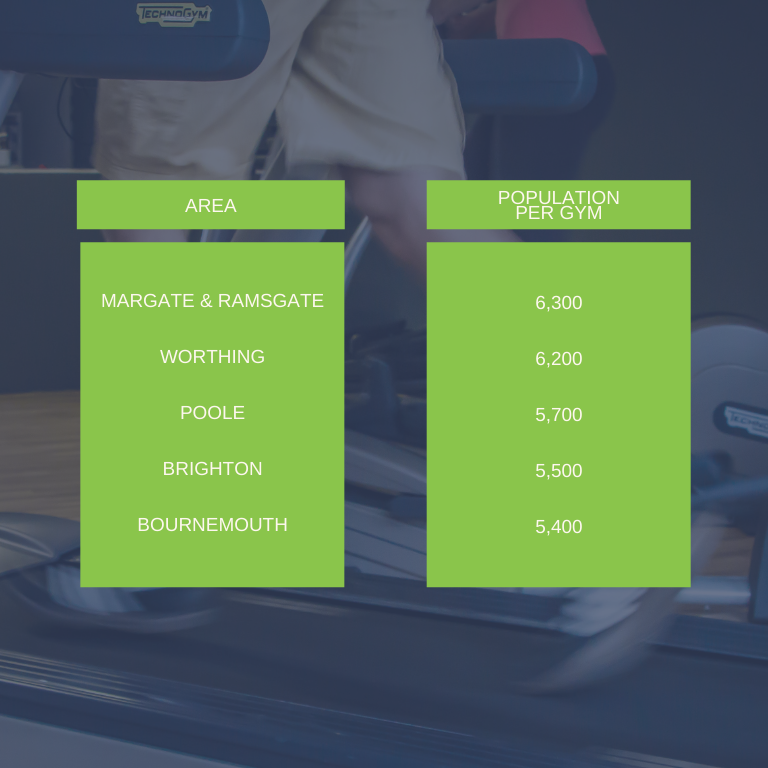 As you can see from the table above, several coastal retirement communities are under-resourced by gyms.
Based on the insight above, fitness centres wanting to cater to the under 30s or over 50s would be wise to look at using location intelligence as part of their growth plans to narrow down the most lucrative sites.
There are lots of opportunities for expansion for gym businesses. However, it is important that businesses do not adopt a 'one size fits all' approach. By understanding local demographics, successful gym businesses can ensure they expand in the right places and develop offers that are most suited to regional populations. As a result, not only will gym owners have thriving businesses with multiple sites, but communities will also have access to fitness facilities that meet their needs.
In this blog post, we've provided a snapshot of the insight that our advanced location intelligence tool, Periscope®, can offer gym businesses. By utilising your customer data and local demographics, Periscope® can find profitable sites for you to open new centres. It can also help you determine why some of your sites might be underperforming – taking our above research into account, it could be that the local population isn't aligned with your target audience.
If you'd like to find out more about Periscope®, we offer all gyms a free personalised demo so you can see the platform in action. Book your session here.