Detailed property performance insight
Gain in-depth insight into how your commercial properties perform over time and optimise your resource distribution.
Periscope® Technology
Periscope® is an advanced Cloud-based system that's simple enough for anyone to use.
Periscope® lets you:
Periscope® in action
Periscope® presents your property data in a way that tells you which factors are important for success, enabling you to monitor and react to performance changes over time.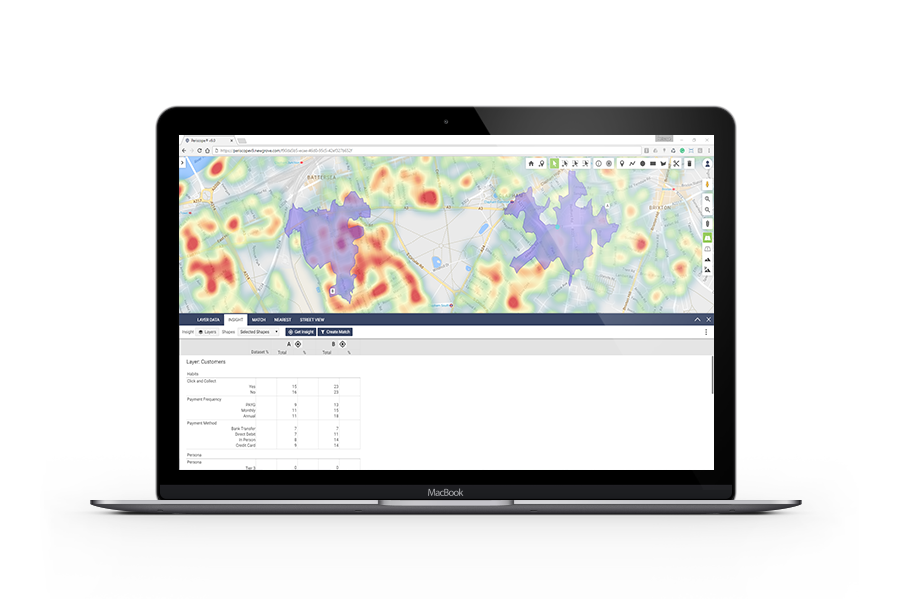 This business development tool solves two critical problems:
Single view of all property data
This advanced location analytics platform lets you collate all property-related data and view it on your own secure, corporate version of Google Maps
200 attributes visualised
Upload your customer purchasing info and competitor information, then overlay more than 200 other attributes to visualise property performance and demographics of surrounding areas
Use this insight to:
– Evaluate the performance of current locations
– Denote factors used to assess new/alternative locations
– Analyse customer behaviour and create customer personas
– Identify potential customers in new areas
– Create localised marketing campaigns
– Find out how convenient a prospective location would be for customers and staff
"In this incredibly fast-paced business world, Newgrove has developed innovative ways of visualising large and complex internal and external datasets. Periscope has been invaluable in helping the Post Office to see where Post Office branches are located relative to other retailers, enabling the Post Office to be where customers shop. The additional modules that bolt onto Periscope enable the Post Office CRM and field teams to log information against branches and display branch specific information to the correct audience in a timely manner. The team at Newgrove is very solution-orientated and has always provided agile solutions to any problem."