The World Cup starts on November 20, as does the usual hype, and belief that for once it will be 'coming home' for England.
At Newgrove, we have lots of football fans in our business. We also have a large number of clients in the health and fitness sector, as well as working with a number of sporting bodies and associations. This experience has led us to become experts in analysing how access to local sporting facilities impacts people's likelihood to be active.
With the World Cup kicking off this month, we wanted to see if we could use our expertise in location intelligence to analyse the geographical makeup of the England team over the years. With that in mind, we thought it would be fun to see whether your birthplace impacts the likelihood of you going on to star for our national team.
We utilised data from Acme Whistles (which makes whistles for football referees) that identified the birthplace of every footballer that has represented England since the 1950s in a major tournament, such as a World Cup or Euros.
While the Acme Whistles data shows the locations most England players have come from, there is a bias towards larger more urban areas. More people naturally mean more potential football stars – which is shown in the data, as Greater London and Greater Manchester came out as the top two birthplaces.
Analysing local populations to see where most England players are born
To fairly determine the places where budding England footballers are most likely to be born, we used our location intelligence platform Periscope® to analyse the number of England players from an area vs the local population.
The table below shows that since 1950, the Northeast and Merseyside have generated more England footballers per population per player than anywhere else in the country.
Whereas other areas of the country, such as Kent and Somerset, have produced few England players. According to the data, no England players have been born in Herefordshire and Dorset.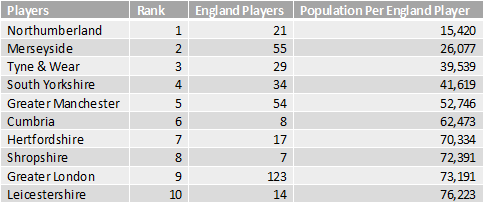 Examining football pitch provision across England
We wanted to dig deeper to see whether the places with a greater volume of England players per population also have a larger number of football facilities to see if this plays a part in their high ranking. For example, do children have more opportunities to play football and become future stars in Newcastle and Liverpool than they do in Weymouth or Poole?
Using the Active Places database within Periscope®, which maps the location of all major sporting and exercise facilities in the UK, we identified every football pitch in England that existed before 2003. Why 2003? This is the year that Jude Bellingham, the current youngest England player, was born.
Once we had narrowed down a list of all the football pitches and sites that current and past England international stars could have played on, we analysed the provision of these facilities against the local population in each county.
We were then able to investigate the relationship between the access to football pitches in an area and the number of England players that have been born there since the 1950s. The graph below shows our findings.
As you can see from the graph, the only relationship is that there is no relationship.
So, there you have it – where you are born is far more important in determining if you are likely to be a future England football star than whether you have an all-singing and dancing 4G pitch at the end of your street.
Parents, carers and guardians, if you want your child to play football for England it might be worth making sure they are born in Liverpool, Newcastle or Blyth.
Discover Periscope® for your business
Our research and analysis for this article were only a little bit of fun. However, joking aside, relationships do exist between people, places and performance. Only by analysing local populations can you truly understand what makes your customers tick.
This is where Periscope® comes in. Periscope® is a location intelligence platform, designed to help businesses get the most out of their data. By enabling you to combine your customer, financial and site metrics with the latest open data it allows you to find new opportunities and gaps in the market that you didn't know were there.
Whether your business is in the sporting field or not, you can deep dive into a particular area or locations within Periscope® to help you find new premises, boost sales at your existing sites or find new avenues for your marketing campaigns.
Book a 10-minute demo with our Sales Director, Paul Thomas, and see how the platform works.
Alternatively, you can call Paul on +44 7967 342747 or email paul.thomas@newgrove.com to arrange a personalised 1-2-1 meeting for you and/or your team.