The UK population is growing. As it happens, it has been increasing year on year since 1982.
The Government recently released phase one of the England and Wales Census 2021, which shows that the population of the two UK countries rose by 3.5 million (6.3%) people in a decade since 2011. When this figure is added to the census data from Northern Ireland (which has already been published) and the estimated Scottish population for 2020, the UK population sits at 66,966,400.
This new data is currently at a high level only, with phase two for the England and Wales Census 2021 set to be released this winter and phase three in spring 2023. The Scotland Census is expected to be published next year. Once the full census data from England, Wales and Scotland have been released, businesses will be able to use it to see population changes near their commercial premises.
To support our clients with the latest data, we've added the most recent statistics on population change from 2020, which are available from ONS to our location intelligence platform – Periscope®.
The 2020 data shows the UK population grew by 0.4% from mid-2019 to mid-2020, which equates to 284,000 people. It is projected to exceed 69.2 million over the next decade to mid-2030 and rise to 70.5 million by mid-2041, according to ONS.
What does population change mean for businesses?
A denser local populace could mean greater demand for your products and services, and so new opportunities for your company to raise brand awareness, find new customers and improve sales could arise. On the opposite side, a decline in citizens could mean there are fewer people in need of your services or products.
If a population of an area stays stagnant, as people go through different lifecycles, it could mean their need for your offering reduces or stops altogether. For example, as people age or have children. This would be especially important if you're targeting a certain age range.
Back to the positives, a rise in inhabitants could increase the volume of investment into a local economy, which could result in business grants. It could also boost tourism, leading to more footfall and new customers. Plus, places with an influx of people could mean a greater talent pool for you to draw on when hiring staff.
Which UK towns and cities had the biggest population growth?
With the release of the new ONS data, we've been able to identify the fastest-growing locations in the UK by using Periscope®.
Lancaster and Bath had the largest levels of growth, both with rises of over 2% year on year.
Coventry and Canterbury also saw significant increases of 1.8% each.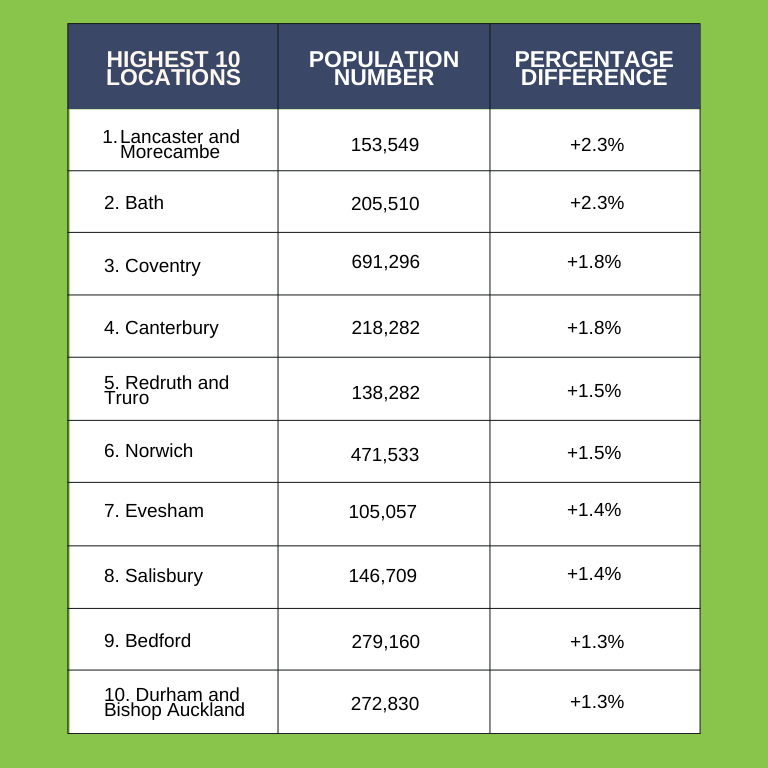 The places featured in the top 10 are more historical areas, which could be because of the pandemic and more people working remotely. This change in working patterns could have driven people to move out of the capital and other big cities to more idyllic locations for a quieter life.
Which UK towns and cities saw the largest decline in population?  
The town with the largest decline was Barrow-in-Furness, which decreased by 0.5%. Whitby and Margate and Ramsgate also registered significant drops with 0.4% each.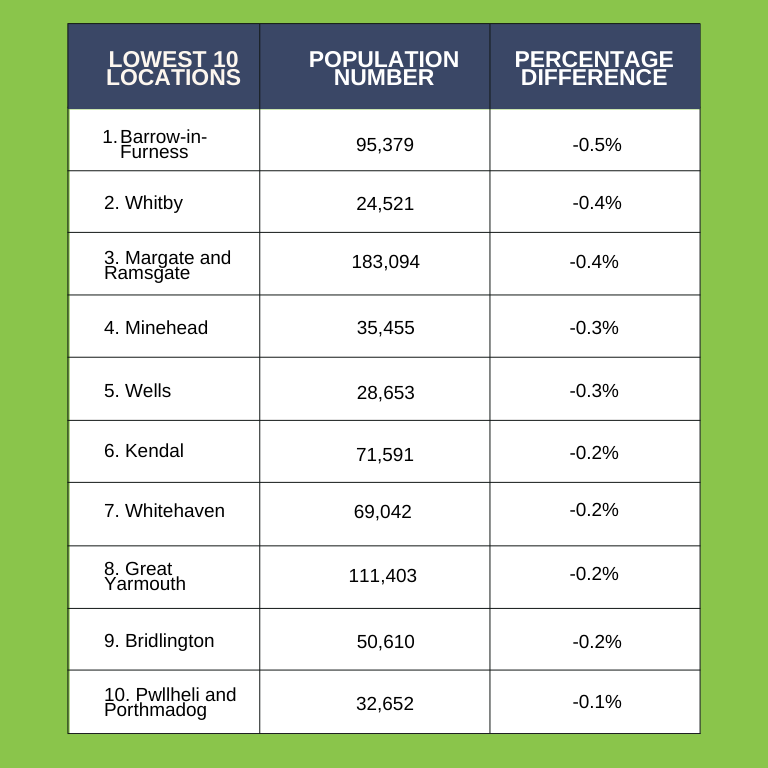 Eight out of the 10 areas with a population decline are coastal. Only Kendal and Llandrindod Wells and Builth Wells are inland. However, they also have ties to water.
Kendal is only eight miles away from the largest lake in the Lake District, Windemere. Meanwhile, Builth Wells sits at the point where two rivers, the Wye and Irfon, meet. The River Ithon also runs through Llandrindod Wells.
ONS revealed between 2009 and 2018 71% of coastal towns had a slower population and employment growth compared to the English and Welsh averages. In contrast, 47% of non-coastal towns had reduced rates in population and employment.
What else should businesses consider regarding population?
We calculated the 10 highest and lowest areas at a town and city level. However, when you drill down the data to smaller regions, such as electoral constituencies, there is even more of a marked difference.
This could be particularly important if you're using population data in your location planning. While on the surface it may look like a town or city's population is rising, it might not be the whole area. It could be one or two boroughs only.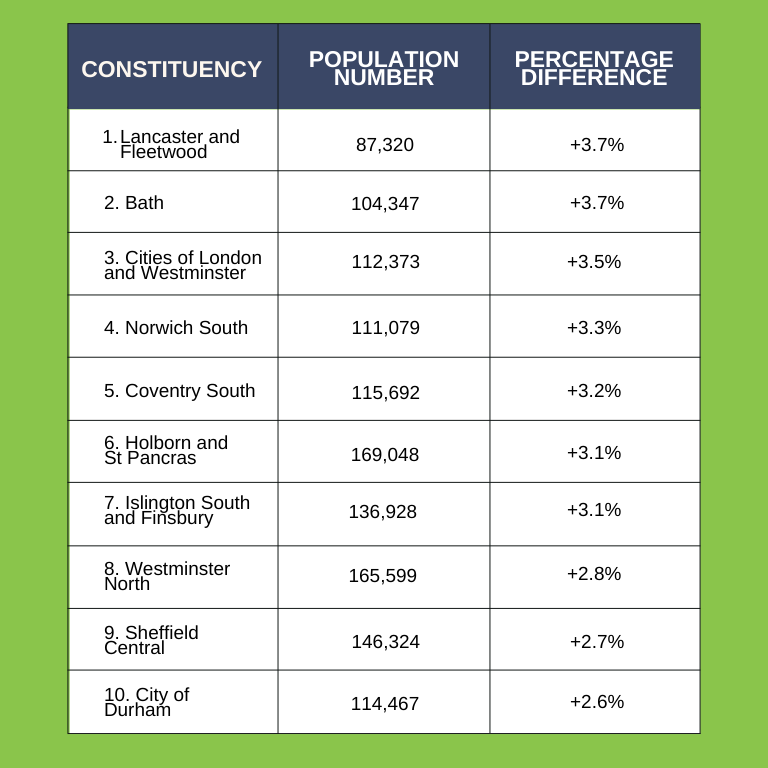 Parliamentary constituencies Lancaster and Fleetwood and Bath both saw a rise of 3.7% each, with London and Westminster (3.5%) and Norwich South (3.3%) close behind. Interestingly, Bath and Norwich also appear in the top 10 towns and cities with the highest growth.
How can businesses use population change going forward?
Of course, there's a lot more to understanding a place than simply its populace. However, it can be a great place to start.
Analysing the data of an area can unlock valuable information for your business, from the reason why your commercial properties are performing the way they are to how your competition is gaining new customers.
The easiest way to do this is via location intelligence. It can provide detailed insight into local demographics and consumer behaviour to help you carve out new opportunities, improve existing sites and save you valuable hours, so you can spend more time on running your business.
Periscope® is a complete location intelligence platform that allows you to place multiple datasets alongside one another. Available 24/7 on any device and with a quick set-up, we can get you up and running within an hour.
Book your free, 10-minute demo with our Sales Director, Paul Thomas here.