Covid-19 has severely affected every aspect of our lives. Apart from health, it is also noteworthy how it affected people's working patterns and behaviours. With the start of remote working, we have witnessed people moving to rural areas for a better way of life and more workers now demand to work less days in the office.
To gain a better perspective of how that works, at Newgrove, we wanted to track the movement of the population and examine their criteria. Our steps included:
Mapping everywhere in the UK and comparing the total working population with that of the residential population.

Identifying all the places where the working population is greater than the residential population. This could lead to the conclusion that businesses with a significant reliance on local workers to be their customers are likely to be disrupted.
The red area in the map below are those areas of Manchester most likely to be impacted by changing working patterns.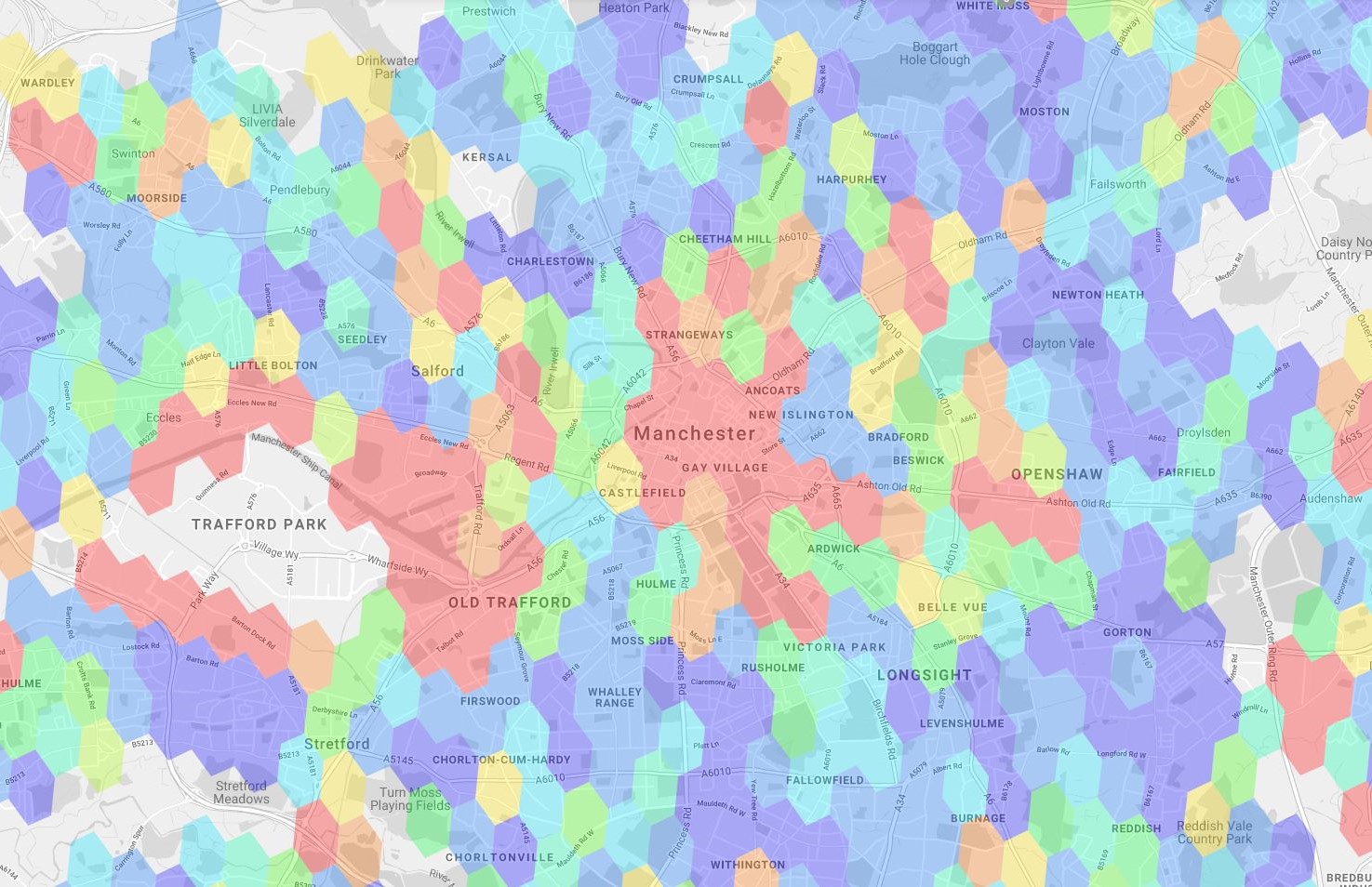 With working practices changing because of Covid any business that supports these working populations such as cafes, gyms and day nurseries are at risk of being disrupted by changing patterns in working behaviour.
However, not all workplaces are the same or have the same level of disruption. To help you understand how Covid and the new normal may impact your business, we have categorised workplaces and working populations by industry type:
Not impacted by changing working patterns: Places with large populations of manufacturing workers such as those making crisps in Leicester, building cars in Sunderland or making submarines in Barrow that require physical presence for work are the ones least impacted.
Impacted by changing working patterns: Places with a reliance in financial services or other forms of work that allow remote working have been affected the most. This includes the centre of larger cities with a reliance on employment in financial services such as Leeds and London. However, data shows that even some more surprising locations such as Bournemouth, Norwich and Halifax have a significant reliance on financial services and are unlikely to return to pre-Covid patterns of behaviour any time soon.
If you want to stay competitive, you need to better understand your customers. The new way of working has been instrumental in changing where they live and what and how they spend their money on. It is, therefore, important to start analysing the industrial make-up of the working population in the same way that you would analyse the demographics of the residential population.
At Newgrove, we are always trying to offer our customers the right solutions to keep up with what's trending. In Periscope, our advanced location intelligence platform, we have created new datasets which not only compare the local working and residential population but also look at the types of industries people work in.
If you are ready to make the next step towards building a stronger and more competitive marketing strategy and you are interested in Periscope, just get in touch. Our team of experts is always happy to walk you through everything with a free demo.