You will have read a lot about the decline of the traditional British pub. In a recent Morning Advertiser article, it was stated that nearly 2,500 pubs were lost in 2020. However, at Newgrove, we believe these is still a place for the Great British Pub and plenty of places around the UK where opportunity exists to open new ones.
In fact, we are so convinced by this that we spent some time undertaking our own extensive research to find the best places across the UK that you could open new pubs.
So how did we do this?
Categorisation: We started by recognising that all towns and pubs are not the same. According to the Food Standards Agency database there are 52,000 drinking establishments in the UK identified as a pub, bar, or nightclub. We took every one of these and classified each establishment into one of 3 categories.
These were:
Rural pubs (16,000)

City Centre pubs (15,000)

Suburban pubs (21,000)
Localitites : The next step was to divide the UK into over 90,000 localities using 0.5 km diameter hexagons. Once again these were classified by destination type into Rural, City and Suburban.
We then analysed the number of pubs in each locality and compared this to the size of the adult population. We did this for the immediate locality in the case of the rural and suburban pubs. For the large city centre zones, we used a 15-minute drive time and looked at the reachable resident population alongside the local working population.
Rankings: The creation of a set of rankings for each destination type was essential. The rankings illustrated the places where the number of potential customers for each existing pub was very high. Thus, highlighting locations with opportunity for new pubs.
So, what did we find?
Rural
With 56 million over 18s in the UK and 52,000 pubs, we can conclude that there are approximately 1,100 adults for every pub across the country. However, in the localities below we found the stats to be much higher. This illustrates the opportunity and potential in each of these locations.
Scotforth, Lancashire

– 9,000 people per rural pub

Whitstable, Kent

– 9,000 people per rural pub

Biddulph, Staffordshire

– 8,700 people per rural pub
As you can see below more pubs are needed in Biddulph.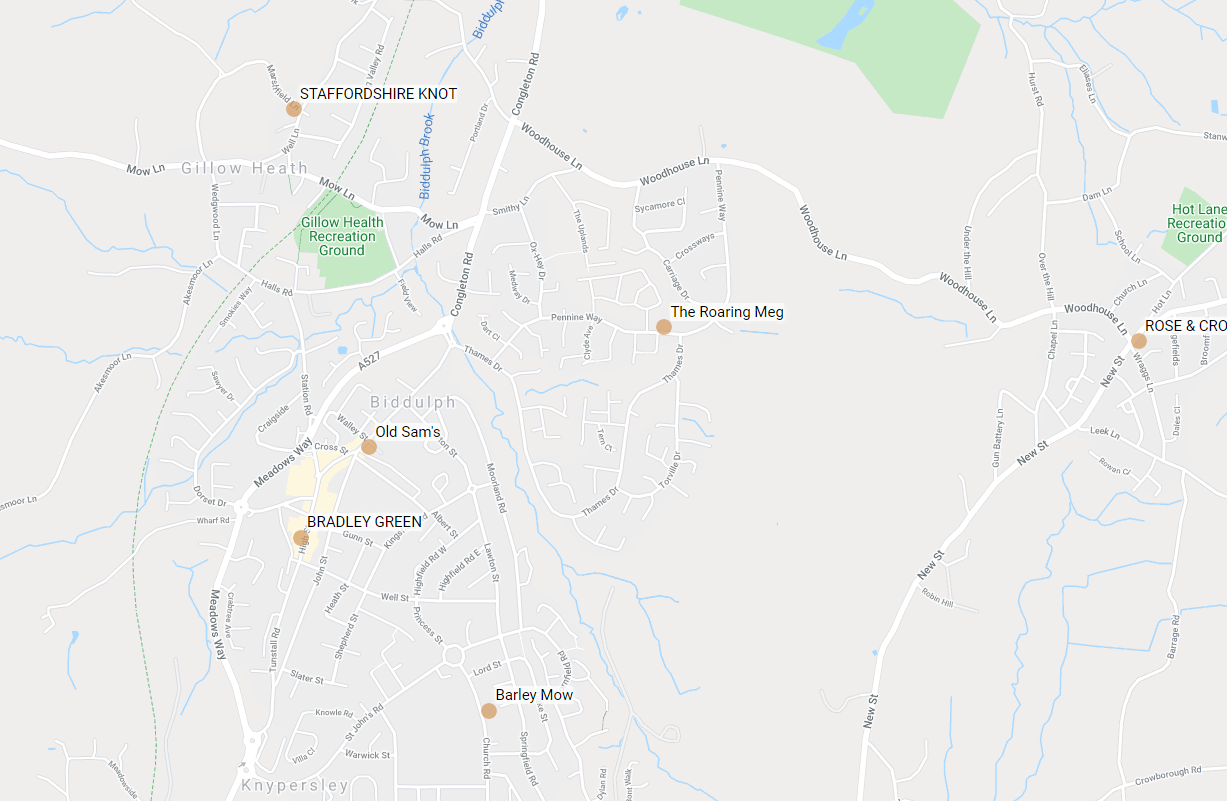 Suburbs
We also found some large "pub deserts" in the suburbs of some of our largest cities such as London, Birmingham, and Manchester.
As you can see from the numbers below there are suburbs where the provision of bars and pubs is very low in the context of the national average.
Some of these were ethnically mixed areas which means that businesses opening in these localities really need to understand the local community to be successful.
Plashet, London –

30,000 people per suburban pub

Thornton Heath, London –

25,000 people per suburban pub

Washwood Heath, Birmingham –

18,000 people per suburban pub
City
Finally, when we looked at the city centres we found that central London and other large conurbations featured heavily showing the highest levels of opportunity. This isn't a surprise.
However, when we included the local working population in our city centre analysis we did find some interesting locations on the list that were different from the big city centres. This included:
Coleshill, Warwickshire

– 650,00 workers within 15 minutes

Stockport, Greater Manchester –

620,000 workers within 15 minutes

Hyde Park, Leeds

– 550,000 workers within 15 minutes
The 3 locations above were in the top 20 alongside the obvious central London locations. These are places where opportunity clearly exists for new businesses to open and tempt people in for a post-work cocktail.
It looks like Hyde Park has lots of pubs but maybe there is room for more based on the workers/pub ratio.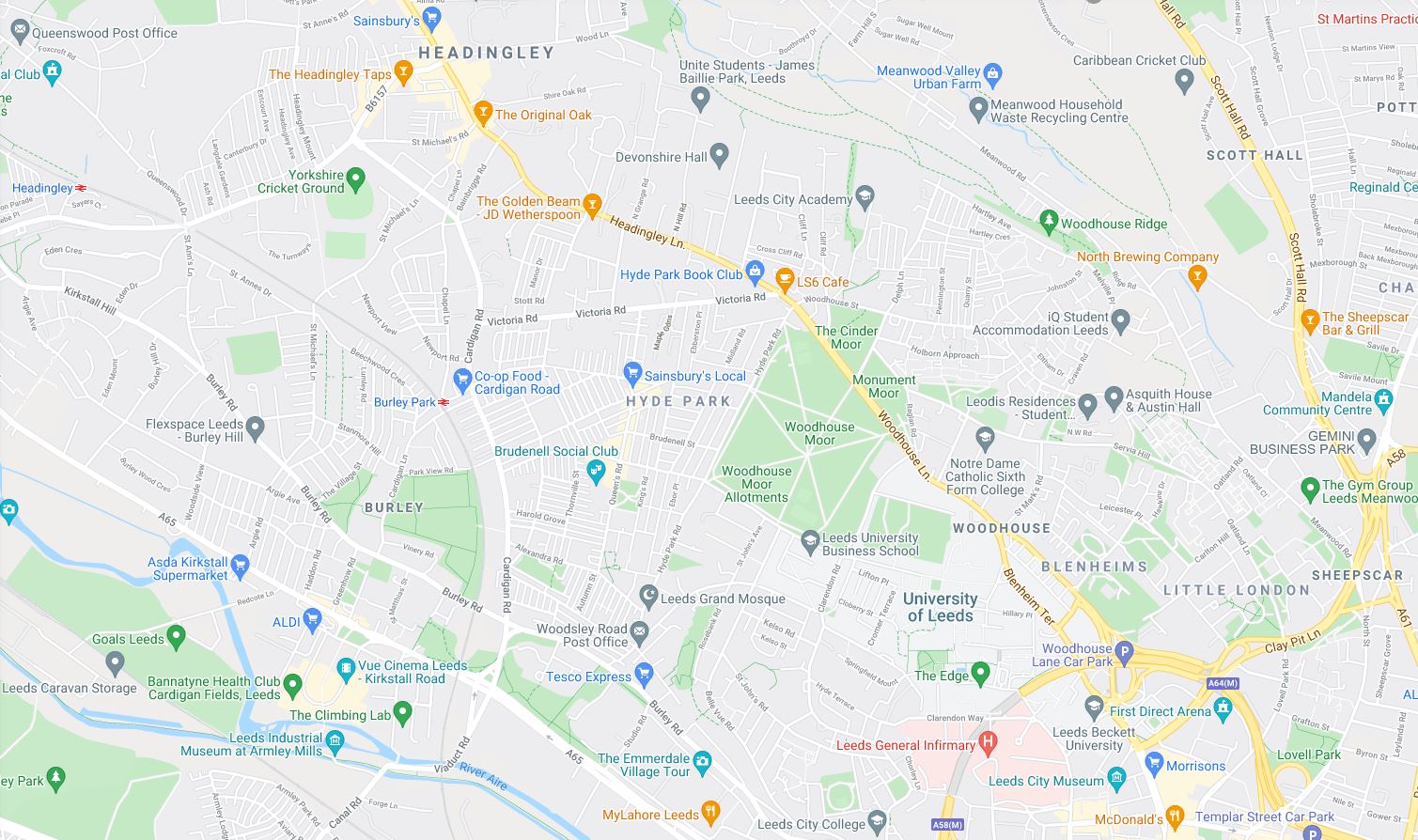 So, what does this all mean?
Insight like this when tailored specifically to your brands can help identify pockets of opportunity for new openings. This will give you the highest chance of success when choosing the right place for your new pubs.
At Newgrove we have created a unique set of data across the UK showing pubs, locations and opportunity classified in many ways to support your opening programmes. This is all available on Periscope®, our Google-map based analytics tool in the cloud.
Do you want to learn more about how all these works and how it could be helpful to your business? Then get in touch with Paul for a demonstration of Periscope® or more insights at paul.thomas@newgrove.com.